by Patrizio Fiorilli, CEND
08/04/2021 21620a1b-a160-491c-a526-276eff86c9d9 93 56
---
'Spot and fight disinformation'. On the Learning Corner webpage, the title is remarkably self-explanatory. It is the latest toolkit developed by our colleagues in DG COMM's Strategy & Corporate Campaigns unit for secondary school pupils across Europe. Within a few weeks it will be available in all languages, and in the meantime Commission en direct spoke to Matteo Salvai, one of the members of the Fighting Disinformation team.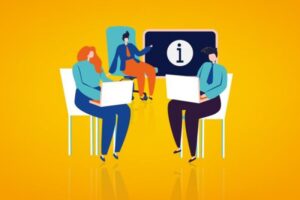 ​The Spot and fight disinformation toolkit is based on a number of facts. First, tackling disinformation is part of DG COMM's mandate, and second, through their various meetings with teachers and students over recent months, the team realised there was huge demand for such a toolkit across European secondary schools.
Agreeing that something must be done is usually the easiest part of the work, finding what and how to do it is far trickier. So how did they do it?
"We started by listening." On the screen, Matteo drops those four words almost as if it were obvious, four words that beg for more details. "At the risk of stating the obvious, none of us at the Commission are secondary school teachers, and as they were to be our 'customers', we held several meetings with them, as well as with experts."
The listening exercise brought one main conclusion: the most convenient tool to help European teachers equip their pupils with the skills to detect and counter disinformation would be a modular toolkit with a PowerPoint presentation in all languages. "This was by far the best option," Matteo explains. "Unlike videos for instance, PowerPoint presentations can be edited, updated. Teachers can adapt it, adding for instance more recent or more topical examples when they need it; this will give the toolkit a longer life span."
The toolkit includes real examples of proven disinformation
But to be even more effective, the toolkit creators consulted teachers throughout the process, testing the various prototypes at each stage on those who, eventually, would use it.
Simultaneously, they worked with different services in DG COMM (spokespersons, the Political Communication and Representations Directorates), other DGs, including EAC and CNECT of course, and even other European institutions and bodies such as the European Parliament and the EEAS. "DG EAC has the education expertise, DG CNECT develops the policy to counter disinformation by working with the platforms," explains Matteo, "whereas the EEAS has a whole division working on disinformation. It wouldn't have been smart to work in our corner without bringing others on board. Besides, we didn't want to produce a 'Commission' toolkit, we wanted a genuinely 'EU' toolkit. With them, we discussed the content and the examples for the kit. This was the epitome of teamwork!"
With the first language version (English) completed, tested and fine-tuned, the subsequent stage was translation into all official EU languages. This is being done now and should be completed in the coming weeks.
And the next step was a question: how to make the toolkit reach its audience – secondary school teachers spread over the whole of Europe? Here again, cooperation was the key. The team has been making the most of DG EAC's eTwinning (school twinning via electronic communication) initiative, dedicated this year to media literacy and disinformation. It also works with Commission and Parliament Representations in Member States, as well as Europe Direct. And beyond the institutional partners, it has contacted NGOs and associations working with schools, as well as media that feature education sections, to inform them of the existence of the toolkit.
"We still need to talk to national education ministries, though," says Matteo. "Education is not one of the EU's competencies, and the Education Ministries are obviously massively powerful communication channels towards schools."
Matteo Salvai: "It wouldn't have been smart to work in our corner without bringing others on board"
Propaganda?
Throughout the interview, it is clear the proverbial elephant is right there, in the middle of the room: isn't there a risk? Wouldn't some argue that openly engaging teenagers and their teachers across Europe amounts to EU propaganda?
This is when Matteo's smile disappears from the screen as he categorically rejects this hypothetical criticism: "Absolutely not! Check the PowerPoint yourself, you won't find one direct or indirect attempt at blowing the EU's trumpet! The whole toolkit addresses real, mega-important issues such as COVID-19 and vaccination, as well as demonstrated examples of false narratives, and highlights ways to spot them, that's it. Nowhere do we make the slightest attempt at promoting the EU. We bring tools for youngsters to avoid being manipulated, to develop critical thinking, full stop!" 
Point taken.